Well… don't listen to us; You know we may be biased…
Below are the reasons listed by Queensland's Transport and Main Roads
Cycling benefits
Transport benefits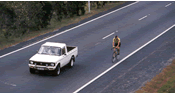 Maintaining and improving the transport network costs the Australian government an average of A$27 million every working day.
Bikes do less damage to road surfaces than cars. Bike paths give people 'freeways' for the price of footpaths.
The estimated costs of congestion are A$5 billion per year. More bikes and less cars on the road can reduce this congestion and its associated costs.
Bikes and cycling facilities can extend the catchments of existing public transport services. On average, 10 times more households are within cycling distance of public transport than are within walking distance.
The majority of car trips to school are within walking distance. Cycling or walking these trips significantly reduces congestion around schools and improves safety for children.
To achieve a 75% increase in cycling trips, each person in Australia would have to substitute only two car trips per month with cycling.
Bicycles offer door-to-door service because they can be parked closer to destinations than cars. They are often quicker than cars over short distances of up to 5 km.
Bicycle lanes and paved shoulders on roads create a number of benefits for motorists, cyclists and pedestrians. These include:
improved safety for cyclists and motorists—due to reduced need to travel out of the lane to pass cyclists
additional space for motorists to stop in the event of a mechanical difficulty, emergency, or to escape potential crashes or reduce their severity
access for emergency vehicles as motorists have more space to move out of their path
extra sight distance and turning space.
Cycling conserves roadway and residential space, thereby providing opportunities for less cement and more plant life in urban areas. Up to 40% of urban areas in Australia are taken up by providing infrastructure for motor vehicles including roads, car parking, service stations and auto manufacturers.
Health benefits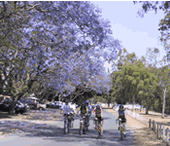 Health professionals recommend at least 30 minutes of moderate-intensity physical activity each day. This is enough to maintain good health, even if the exercise is broken up into short 10 minute bursts.
Riding to work, school, uni or college, or taking your bike on short neighbourhood trips is a convenient and practical way to incorporate regular exercise into your busy day.
Regular exercise, such as cycling and walking is important.
(note from TownsvilleBUG based on Dutch Cycling Council publication: The estimated health cost savings in the Netherlands are 22 billion USD yearly compared to their cycling infrastructure investment of about 0,75 billion USD)
Environmental benefits
Bike riding uses minimal fossil fuels and is a pollution-free mode of transport. Bikes reduce the need to build, service and dispose of cars.
Cycling 10 km each way to work would save 1500 kg of greenhouse gas emissions each year. Also, as traffic delays and interruptions to traffic flow in Australia's six major cities account for around 13 million tonnes of greenhouse gas emissions each year, cycling during peak hours would contribute to further emission reductions by reducing congestion and improving traffic flow.
Visit the environment section of our website for additional information.
Economic benefits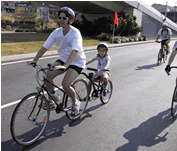 Transport (15.5%) is second only to food (18.2%) as the largest item of household expenditure in Australia. The family car costs up to 55 cents per kilometre to run. In comparison, the cost of buying and maintaining a bike is around one per cent of the cost of buying and maintaining a car.
The family car costs on average 79 cents per kilometre to operate1. In comparison, the cost of buying and maintaining a bike is much cheaper, and even if you already own a car, a bicycle is more cost effective than driving if you ride at least 20 kilometres a week2.
Four out of 10 Queenslanders own a bike and more than half of all Queenslanders have a bike in working order in their household.
Using a bike for shorter trips may allow you to avoid buying a second car, which will save families thousands of dollars each year. The RACQ estimates that the cost of buying a new car every five years with an average mileage of 15 000 km per year varies from A$84.63 to A$194.90 per week.
Cycling 10 km each way to work each day will save about A$1700 per year in transport costs (including all running costs and depreciation). Also, bicycle parking is usually free, easily accessible and more convenient than car parking.
(Note from TownsvilleBUG: A 2011 Queensland study found that cycling saves about $1.43 per kilometre cycled; about $14.30 for a 20-minute round-trip!)
Social benefits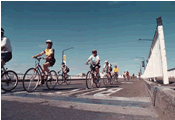 Bicycles are more affordable to run. While only 10% of the world's population can afford a car, an estimated 80% of people can afford a bike.
Cycling provides economic and independent travel for those who might otherwise have their travel options restricted. It offers increased mobility to many groups of the population with low rates of car ownership, such as low income earners, unemployed people, seniors and those under 18 years of age.
Shared cycling and pedestrian facilities also create benefits for pedestrians and people with disabilities by providing an increased network of paths and improved road crossings.
Cycling enables people to interact socially and feel more at home in their local community. More people cycling and walking provides additional opportunity for social interaction on the streets and this enhances a sense of community.
More bikes in a neighbourhood provides a safer road environment and children can also take advantage of slower and less dangerous traffic to cycle as well.
1RACQ 2010, RACQ Private Vehicle Ownership Costs 2010, viewed 28 April 2011, http://www.racq.com.au/motoring/cars/car_economy/vehicle_running_costs.
2Arundell, L. (2007), Thinking on Two Wheels Cycling Conferences: The Cost of Cycling , viewed 28 April 2011.